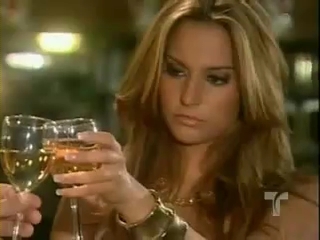 Genesis Rodriquez has a large shadow over her. As the daughter of "El Puma" Jose Luis Rodriguez, she has had to deal with the usual expectations of being a star's daughter. She enjoyed the fame initially as a child does. She also understands the price of pursuing any endeavor. The comparisons will naturally arise and the road to carving her niche will be difficult at times. Rodriguez has already had her share of controversy. Yet, she focused on what she did well and went on to establish her credentials in the soap opera world in both English and Spanish markets. Rodriguez particularly made her mark in the US with the longtime running series, "Days of Our Lives."

Rodriguez is now looking to reach the next level. The movie and television industry is in reach and Rodriguez feels she's at the doorway of some new accomplishments. The veteran of Latin soap operas like "Dame Chocolate," "Prisionera," and "Dona Barbara" have prepared her for the next step. We had the chance to speak with this 22-year-old as she completed the work on her last soap opera. Rodriguez shares her thoughts on her famous father, her aspirations and fears, as well as her hopes for her budding career.

nocheLatina: You grew up with a famous father, Joes Luis Rodriguez. Was this an advantage or disadvantage?

Genesis Rodriguez: I definitely have to say getting all that attention obviously felt good. I didn't know what it was for. I didn't know why I deserved it. Everyone loved us. Everyone loved me because of my father. That was good enough reason for me. I guess growing up there was a flip side to the coin. It had its advantages but at the same time, I would get jealous as a girl gets with sharing her father. He would have to divide his time being a dad, being a husband, and being El Puma. I had to share him with the public, something I understood better growing up.

nocheLatina: Miami is your hometown and a hotbed of entertainment. Did this wet your appetite to go into the business?

Genesis Rodriguez: I was raised in Miami, but I didn't think I was getting into the entertainment business. The reality is I was scared of it so I took drama classes. There were a lot more obstacles in my way because I have that pressure of 'what would they say?' and 'would I be good enough?' or "do I fill my father's shoes?' I had all those expectations without me going out there like a regular person. I fell into it in Miami. When I go over there now it's projected as an entertainment party and it really isn't. For me it was the total opposite. I disappear in Miami. I go to the beach and nobody ever finds out I'm ever there. It's a vacation really.

nocheLatina: You have two sisters. Is that a hindrance or advantage as far as pressures go?

Genesis Rodriguez: I don't really have much to say about that. My half sisters have never really been in my life. It's not that big of a deal. We have a huge age gap. We didn't really have much in common. We just share the same guy. I can't deny that. There is love and respect though.

What did you want to do growing up?

Genesis Rodriguez: I thought I was going to be an attorney. I had good grades. I was an honor student. I was really focused. I could have done anything I wanted. I felt that nothing else would make me happier. Acting was like my little secret. It wasn't until I got serious about it that things changed. I started out at age 12 and by age 14 I said that I wanted to do this for the rest of my life. My father said, 'I'm not going to send you out there until you get ready and study.'

You started out with the idea of making it on your own. Tell us about that.

Genesis Rodriguez: I did my first costume with an alias. It was my mother's name. Nobody knew who I was. The funny thing is I did my first casting and landed my first job. It's kind of like if you have it, you can make it. I realized later that it's not that easy. You have to take a lot of rejections and grow. I went out there and the first person who saw me said yes to me and offered me the lead role. I realized how much of a dream it was five years later.

You have done soap operas in the U.S., as well as in Latin America. What are the differences or similarities?

Genesis Rodriguez: One common factor is the time you but into it. The difference is that 'Days of our Lives' has been running for a number of years. It was like a family and it's so unified. When it comes to Spanish soap operas, you have to be a family the moment you arrive. It's a much more stressful environment.
What are the highlights of your soap opera career thus far?

Genesis Rodriguez: I was in 'Dame Chocolate' and it was the biggest goal for me because I was the lead female. I had to prove to everyone I could be that, sustain a soap opera on my shoulders, and bring in the numbers. Now I think every job prepares me for my next one.

How do you deal with adversity?

Genesis Rodriguez: I don't care what people say or think. I just give it my all. There were questions about how young I was or my lack of experience. Right now I could do anything. I don't care about any criticism other than my own or probably my family.

What projects do you have lined up for this year?

Genesis Rodriguez: For sure I have a couple of offers and they seem to be on their way. It's picking up nicely. I can't talk about it now, but I am trying my best to open new doors.

Have you ever entertained the thought of pursuing a singing career?

Genesis Rodriguez: To pursue a singing career is probably is the scariest thing I can think of. I respect it too much. I love my father's voice. I cannot continue on his legacy. It would be way too much to do.

How important is it to you to do well in the U.S or is it better for you to concentrate on the Latin market?

Genesis Rodriguez: The thing about my generation is that I am bilingual and bi-cultural. I have two cultures, the Latin and the mainstream general market culture. I watch soap operas with my grandmother, but I dream of Hollywood. However, I always felt that the Latin people are my priority. To each their own, I owe it to my father and I owe it to my youth. If I could represent the mainstream market I would be equally happy.

Do Latinos have more of a presence now than a few years back?

Genesis Rodriguez: I think our country and the industry is evolving. I think our people are going to make some noise this year. When you turn on the TV and watch a medical show we don't see Latin faces as doctors. It's just unrealistic. We are everywhere and should be represented everywhere.
What is your take on the social network world and its impact on the business?

Genesis Rodriguez: I think it helps. On Twitter it allows the fans to get to know you more. But sometimes people are way too open and it may hurt them. I try to take it easy because I don't want to lose the mystery.

Will you do more soap operas?

Genesis Rodriguez: It's all done for now. Maybe in the future.

What legacy would Genesis Rodriquez like to leave on the business she chose?

Genesis Rodriguez: I want to be as successful as I can and do things that challenge me as an actress. I want to entertain people. I also want to be a role model, period. I don't want to be a genre. I don't want to be a race. I want people to identify with me and speak for them. I hope whatever I conquer is for the good. That's what I hope to do.
Prevod by Lady
Genesis Rodriguez ima veliku podrsku na koju se oslanja. Kao cerka EL PUMA, Hose Luisa Rodrigeza, ona je imala prednost da postane zvezda kao njegova mezimica. Ona je uzivala u slavi jos kao dete. Na putu do slave bilo je trnovito, ali se ona ipak provukla na Engleskom i Spanskom trzistu.
Genesis pokusava da dostigne sledeci nivo na televiziji, iza sebe ima tri uspesne sapunice, Prisionera, Dama Chocolate i Dona Barbabra, upravo te serije su je pripremile za sledeci korak. Interviju je radjen sa ovom glumicom, pricala je o svojim stahovima kao i nade koje polaze u svoju karijeru.
Pitanje : Odrasla si uz poznatog oca ? Da li je to prednost ili mana ?
Genesis: Ja definitivno moram da priznam da sva ta paznja cini da se osecam dobro. Svi koji su voleli mog oca voleli su i mene, to je dobro bilo za mene dok sam bila mlada. Medjutim vreme cini svoje, i morate da okrentete novcic i budete svoj. Sve to je imalo svoje prednosti, ali i svoje mane, bila sam ljubomorna kao devojcica, jer je otac morao da bude i dobar otac, i suprug i el puma. Morate deliti oca sa javnoscu, to bas i nije prijatno, ali sam razumela svojim odrastanjem.
Pitanje :
Majami je vas radni grad, ali i grad zabave. Da li bi ste upustila u zabavni biznis ?
Genesis: Odrasla sam u Majami, ali ne volim zabavni biznis. BIlo je dosta prepreka na mom putu, morala sam paziti STA CE RECI OVI, i DA LI CU BITI DOVOLJNO DOBRA, da li cu biti dovoljno dobra da popunim cipele svog oca ? Morala sam dokazati da sam vredna osoba. Dokalazala sam to u Majamiju. Ali kada sada idem tamo, izgleda kao marketing, ali nije. Za mene je suprotno. Nestanes u nekom kutku Majamija. Idem na plazu gde necu sresti nikog ko zna bilo sta o meni, i ko zna da postojim uopste. To je pravi odmor.
Pitanje: Imate dve sestre. Da li je to prepreka ili prednost u karijeri ?
Genesis: Nemam puno da kazem o tome. Moje polu sestre nisu nikad bile zaista u mom zivotu. Izmedju nas postoji razlika u godinama, nismo imale bas mnogo toga zajednickog. Ne mogu poreci da postoji ljubav i postovanje izmedju nas, ipak krv nije voda.
Pitanje: Sta ste zeleli da budete ranije ?
Genesis : Mislila sam da budem advokat. Imala sam dobre ocene, bila sam dobar ucenik. Bila sam fakusirana na to, i htela da uradim ono sto sam zamislila, i ostila sam da bi me to ispunilo. To je bila moja tajna. Tek kasnije stvari su se promenile. U svemu sam imala podrsku od oca.
Pitanje : Jeste razmisljali o tome sta bi bilo da ste sami krenuli u javni zivot ?
Genesis: Pa ne znam, iskreno. Kad sam prvu ulogu dobila dobila sam je odmah i ljudi koji su mi dali ulogu nisu znali cija sam cerka.
Pitanje : Radili ste u SAD i Latinskoj Americi. Koje su razlike i slicnosti ?
Geni ; Razlika je u vremenu, ali se naviknete. Snimanje telenovele, okruzenje i ljudi sa kojim snimate vam postanu kao porodica.
Pitanje: Sta se istice kod Vas u karijeri sapunica?
Geni : Ja sam bila u Dame chocolate protogonista, to je za mene najveci ostvareni cilj. Svima sam dokazala da ja to zaista mogu. Svaki posao koji odradim me pripremi na neki nacin za sledeci korak.
Pitanje: Kako su te mediji predstavili ?
Geni: Nije mi bitno sta drugi kazu i misle. Mnogo se polemisalo oko toga kako sam mlada, nemam dovoljno iskustva. Ne prihvatam ja tudje kritike osim od svoje porodice koja je najiskrenija.
Pitanje: Koje projekte imate za ovu godinu ?
Genesis: Imam vec nekoliko ponuda i na njihovom sam putu. Ne moze se o tome govoriti jos uvek, ali pokusavam sebi otvoriti nova vrata.
Pitanje: Niste nikad razmisljali da pevate ?
Genesis: Postujem previse ljude koji pevaju, volim glas svog oca. Ali ne mogu ga naslediti u tom pogledu nazalost.
Pitanje: Koliko je vazno da dobro rade u SAD ili je za vas bolje latinsko trziste ?
Geni: Gledam sapunice sa bakom, a sanjam o Holivudu. Latinski narod je moj prioritet. Svakom svoje, ja ovo dugujem svom ocu, i moj mladosti. Ako bih se mogla dobro pokazati jos na nekom trzistu bila bih presrecna.
Pitanje: Hocete li uraditi jos neku sapunicu ?
Geni : To je sve nesigurno za sada. Mozda u buducnosti.
Za kraj porucite nesto fanovima:
Zelim da rade ono sto vole, kao sto ja glumim jer volim. Zelim da se narod zabavlja. Zelim da se ljudi identifikuju sa mnom, ali da govori svako za sebe. Nadam se da ono sto dostignu bude za dobro svih, sto se nadam da cu i sama da ucinim.